Success Stories: 2005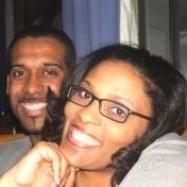 Renny70 & Honey92
I am Renny70 and orginally joined BlackSingles.com (formerly Black Singles Connection) a way to meet new people in my area. I had recently moved to Oregon from Washington, DC to pursue my career in politics and finish school. Unfortunately, with my schedule, and the lack of diversity, there weren't many choices for me in terms of dating. As for Honey92, she had been fed up with the dating prospects in her area, and wasn't a club person. We met within a month of joining the site. My life and schedule were totally hectic, I was working on the 04 Presidential Campaign, managing my bosses campaign for the Oregon House of Representatives, and attending school. She and I corresponded a bit, but she seemed to think that I wasn't all that interested in her. Immediately following the elections I had a little more free time, and our conversations grew longer and longer. And considering we were on opposite coasts, about as far away as two people can be from one another in the continental US, long chat times were at a premium. We soon found ourselves having conversations until 3AM Eastern Time, and me waking up to have a conversation at 4AM Pacific Time. Over the course of those conversation we began to fall in love. Finally our schedules coincided so that she could come out to visit Portland, where she met my crazy friends from the State Legislature (all of us are crazy who work in politics) and she loved the town. While she was here we toured the city (since I am still a newbie myself) and looked at different places to live. Our original time frame that we had decided on was October '05' for her move. The day after she flew back to Florida we decided to move that date up considerably sooner. She is scheduled to move out here June 1, and we will have a small private wedding ceremony here in Oregon. We have already begun the plans for a big wedding on March 11th in Biloxi, Mississipi where all of our families can attend.

In her, I have found a soul mate, best friend, and future wife. We compliment each other in every way. I think the one thing I love most is that we can sit for hours and not say one word, but have a full conversation with a look or a touch and know exactly what the other is thinking. She already has the uncanny ability to complete my sentences and know exactly what I am thinking before I have said one word. There will be nothing better than marrying my best friend. I love her more than I love my own life. Thank you for being the conduit in which God has brought such a beautiful blessing into my life.

Warmest Regards,

Renny70

PS...Attached is our favorite photo from her visit. And we will make sure we send an open invitation to BlackSingles.com to our wedding.
nicolelove
Hello my name is "nicolelove" and I would like to thank you for your dating service. I have finally met the man of my dreams and my prayers, and we have been talking about marriage and doing a lot of things in the ministry together. I know that God has sent this man to me and my kids life. I just want to say thank you for allowing me to meet such a wonderful man on your site.
God bless, goodbye for now.
yellaman & HotChocolate37
I would like to thank BlackSingles.com (formerly Black Singles Connection) for providing me a service to find the woman of my DREAMS!(Hot Chocolate37)This journey was a wonderful trip.. meeting alot of wonderful woman and making friends. I spoke to her a couple of times and our conversation blossomed into something magnetic!!!! Then we stopped chatting for a minute. After about 3 weeks she e-mailed me and we starting chatting again. My verbal skills must have been ON POINT!!!!!(LOL) Next thing I know....I had her home and job phon #s!!!! lol Who knew?

A few im's/conversation progress into visits and a real relationship! I adore this woman and her wonderful son!!!!! Knowing her has made me a better man!!!!! She's been the answer to my prayers and the missing piece to my puzzle. She whispered to me,"'yellaman', this is your last stop." I'm man enough to admit it, she's RIGHT!!!!!!!!! I'm open!!!! lol Thank u again BSC. God blessed me with a woman who's SECOND2None!!!!!!!!!!!
Also,thank u(HotChocolate37)4 loving me!!!
I love u BOO!!!! ur one of kind!!!!!!!
"Yellaman"
jlcater & browneyez22
Sorry it took so long to let you know about my success story. I was married to browneyez22 on New Year's Eve where we had a big wedding. I truly want to thank you for your site and helping me meet such a down to earth and beautiful woman. She is the woman of my dreams and I want to thank you.
Nulife04/Nulife05_06 & Mr.Bill
Two Became One...Thank God for BlackSingles.com (formerly Black Singles Connection),

I am writing this letter to inform you that we have just returned from our honeymoon. My soulmate and I met on this site and will always be grateful to you for providing the tool to bring us together. My user name was Nulife05_06. My husband's user name is Mr.Bill. We were married on February 16, 2005. I am blessed!!!! He is a wonderful and loving man. Truly a man of God and great blessing and asset to my life. I would have never thought that my God ordained mate would have found me via this avenue. This was my first time and I had took a chance on this internet dating thing. I had met 2 other people on this site that turned out to be liars and drama kings. But just when I decided to give up and remain single the rest of my life my husband contacted me on here. Answering that IM has turned out to be one of the greatest life-changing decisions I have ever made. Now I am married to the greatest man in the world. Again thank you BlackSingles.com!!!
Mr.Bill and Nulife05_06
(Now Mr. & Mrs. Bradley)

**UPDATED May 7th, 2007**
Just wanted to let you know that we have been married 2 1/2 years (Since February 2005) and are still going strong!!! I will be forever greatful to God and blacksinglesconnection.com for being the veihicle used to bring us together. I relocated over 2000 miles away, and not only am I married to the most wonderful man in the world, but my engineering career has increased tremendously. I went from being a laid off auto industry engineer to being an top level engineer in the aerospace industry, with so many job offers I am turning work down on almost a weekly basis. So I was blessed in more ways than one by your site. It was truly a blessing to me!!! I look forward to growing old with my husband and spending the rest of my life with him. I pray that more people are as blessed as I was by your site.
Sincerely,
NuLife 05_06
RRLJ53 and Karamul
RRLJ53 and Karamul are now one!

Just when I was about to give up! I joined BlackSingles.com (formerly Black Singles Connection) in June of 2004, after making many attempts and contacts. I had a few close calls, but nothing really happened. In September of 2004 I announced I would be leaving BlackSingles.com. I received a e-mail from Karamul, she stated she would be doing the same thing, because this (search) requires too much work. Keep in mind we had sent each other e-mails in passing. Well, I replied to her comment of "requiring to much work" and the saga began. We spent endless hours on the telephone before we actually met in October 2004. It did not take us long to realize that we were meant to spend the rest of our lives together.
We talked about the sacrifices to be made if we were to be together. Actually, she LOVED me so much she agreed to relocate to Chicago, to allow me to be closer to my two sons.
We vasilated on being married on January 15, 2005. We decided that was too long to wait, so we changed it to January 2nd. RRLJ53 got SCURRED
and decided to hold off.
On January 6, 2005 the LORD called my 30 year old son to be with him. Karamul did not waste any time, being there to support me. This woman dropped everything to support me through this ordeal. I began to realize, she HAD NOT ONLY SUPPORTED ME DURING THIS MOMENT, but she was attending church with me wherever I went prior to this. This woman has my back, through thick and thin. I can give her all the communication, attention and affection she needs, EFFORTLESSLY. She makes it easy to love her. After considering the Gift that God had given me, WE MARRIED ON JANUARY 13,2005 (13 is not an unlucky number, one of our birthdays has that LUCKY number).
GOD is an ONTIME GOD, no matter what the situation. I thank BlackSingles.com for being the vehicle by which I found my SOULMATE!
sincerely,
ROBERTO
CoPilot
Tasha:

I want to thank you for your site but as I told you before, I think I'm falling in love with a woman in Chicago. Since I but only one heart to give, I am giving it all to her and she to me. I have deleted my profile but I will keep
in touch with you and let you know how things are working out for us.

When we get married, I especially want you to come to our wedding. We feel it's only appropriate for what you've done for us. Once again, thanks for everything.

Sincerely,
CoPilot
bambi960
Hi Tasha, this is bambi960. I joined your site on December 1 and had my photo posted on December 2. I had over 100 emails. I was having a ball with all of the attention. Attention with no drama. I loved it. I knew what type of person I was looking for - funny (yellow) and someone in the same state. However, since I was new to the site, I thought I would be polite and return a IM that was sent to me by a man in VA. His picture was cute and caught my eye. I really thought nothing of it. Even looking back on our conversations, there was no real spark. However, I must say, we have spoken everyday (several times a day) since then. I decided to take a chance and go meet him, which I did. I spent New Years Eve with him and he treated me just like a princess. I felt so comfortable with him and his daughter is adorable. I have no idea what is in store for the two of us, but we have decided to try and make things work. You just might see this city girl turn into a VA country bumpkin.

Thanks again Tasha and BlackSingles.com (formerly Black Singles Connection)
JAZZDOLLBILLIE
I went on my first date and probably my last as far as looking any further. Thanks to you and our service, I think I have found the man of my dreams and prayers. Though nervous at first I felt this man knew my heart so well and I'm still floating on air. Thank you, Thank you, Thank you!

God Bless,
JAZZDOLLBILLIE