Conversations until 3AM...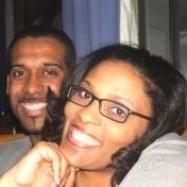 Renny70 & Honey92
I am Renny70 and orginally joined BlackSingles.com (formerly Black Singles Connection) a way to meet new people in my area. I had recently moved to Oregon from Washington, DC to pursue my career in politics and finish school. Unfortunately, with my schedule, and the lack of diversity, there weren't many choices for me in terms of dating. As for Honey92, she had been fed up with the dating prospects in her area, and wasn't a club person. We met within a month of joining the site. My life and schedule were totally hectic, I was working on the 04 Presidential Campaign, managing my bosses campaign for the Oregon House of Representatives, and attending school. She and I corresponded a bit, but she seemed to think that I wasn't all that interested in her. Immediately following the elections I had a little more free time, and our conversations grew longer and longer. And considering we were on opposite coasts, about as far away as two people can be from one another in the continental US, long chat times were at a premium. We soon found ourselves having conversations until 3AM Eastern Time, and me waking up to have a conversation at 4AM Pacific Time. Over the course of those conversation we began to fall in love. Finally our schedules coincided so that she could come out to visit Portland, where she met my crazy friends from the State Legislature (all of us are crazy who work in politics) and she loved the town. While she was here we toured the city (since I am still a newbie myself) and looked at different places to live. Our original time frame that we had decided on was October '05' for her move. The day after she flew back to Florida we decided to move that date up considerably sooner. She is scheduled to move out here June 1, and we will have a small private wedding ceremony here in Oregon. We have already begun the plans for a big wedding on March 11th in Biloxi, Mississipi where all of our families can attend.

In her, I have found a soul mate, best friend, and future wife. We compliment each other in every way. I think the one thing I love most is that we can sit for hours and not say one word, but have a full conversation with a look or a touch and know exactly what the other is thinking. She already has the uncanny ability to complete my sentences and know exactly what I am thinking before I have said one word. There will be nothing better than marrying my best friend. I love her more than I love my own life. Thank you for being the conduit in which God has brought such a beautiful blessing into my life.

Warmest Regards,

Renny70

PS...Attached is our favorite photo from her visit. And we will make sure we send an open invitation to BlackSingles.com to our wedding.