The Sun, the Moon and the Stars finally lined up for me ...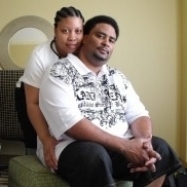 OneCuriousFemale & Sharkjb
OneCuriousFemale gets up the courage to follow in the footsteps of a friend and registers on Blacksingles.com for one month to check things out and meet a potential friend/partner (11/05/08). One month later (12/05/08), and without much success, she decides to renew the membership for an additional three months. One day after renewing her membership (12/06/08), she is contacted by Sharkjb. Sharkjb had previously been a casual BlackSingles.com member and was pondering renewing his membership because he was not regularly visiting the site. On 12/06/08, he decided to go ahead and renew for an additional six months. On this day he reached out to OneCuriousFemale. A ten-hour phone conversation later and they were like old friends. In the last three months, there has only been one day that we have not spoken. That day was the day after that first ten-hour conversation. There have since been SEVERAL 2-3 hours conversations and a conversation that lasted from 9 at night until 8:30 the next morning! There is some distance between us so communication is important to us and we visit when we can. I was definitely an online-dating skeptic and would have never thought I would try it or even meet a potential partner. But the Sun, the Moon and the Stars finally lined up for me and I am grateful to BlackSingles.com for being the vehicle that got us together and to my new best friend, Sharkjb for reaching out to me!