I was simply blown away & sweep off my feet.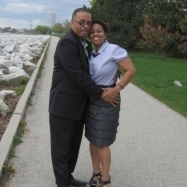 Essence2be & Letsagree
I must say having a profile on BlackSingles for over 3 years has been very interesting. My mailbox was overflowed with messages I couldn't retrieve, so I decided to become a member. Not really expecting to meet anyone I would fall for, just meeting some interesting people was about all I anticipated. After checkin' my BlackSingles around Valentine's Day, I became intrigued by "letsagrees" profile. Handsome, brilliant, lots of charisma, spiritual & just an all-around captivating "brotha"!! We had so much in common, even our names (Robin & Rubin). When we finally went out (after making him wait awhile) we had the best time ever. We just click!! I was simply blown away & sweep off my feet. Stimulating conversations, romantic dinners & deep kisses, keep a "sista" a glow!! Our sharp inquisitive minds with a great sense of humor keeps are relationship interesting & flowing!! Our love feels authentic and full......it's fun, exciting & full of adventure.......he never ceases to amaze me!! I believe in true love once again.......it's beautiful, Black Love is simply wonderful!! Our journey has begun......our future looks bright!!

Thanks BlackSingles for finding my soulmate!!

Robin a.k.a "Essence2be"