It was if God was hand delivering who He wanted for me...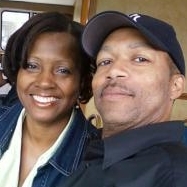 highlyfavoredblessed
I received quite a few smiles and correspondences from other members in the approximate 8 weeks I was online. However, things just never panned out and I was unable to connect with mutual interests. I was looking for specifics such as #1 must be a Christian, #2 5'11" or taller, #3 African American, #4 must contact me first, etc. I was corresponding with one individual, and when we spoke on the phone, something just didn't sit right with me. Then, I received a smile from this very special man. His picture made my heart beat a little faster. When I read his profile, all my specific requirements were there, halleluljah! My heart was really beating quickly now! I sent him an email back, and it was on from there! He sent his telephone number in the next email to me. When I called him, something just clicked automatically on both sides. It was if God was hand delivering who He wanted for me, to me. We spoke on the phone for a couple of weeks before meeting. He took his profile down before ever meeting me. Wow - that 's how sure he was! Our first date was 8am church service and lunch. Everything is wonderful! Thanks Black Singles!