Success Stories: 2009
waitingonyou2
Just wanted to say thank you BlackSingles for helping me to meet the man of my dreams. I was about to give up when I saw a guy from Durham. I emailed him and he emailed me back. We started talking in May of '08. I found out he was my soul mate. We fell in love over the phone and met in May of '08. We enjoyed each other and have been together since. We fell in love and are planning a February 14, 2009 wedding. Again, thanks; I recommend this site to everyone who is in search of their soul mate.
jaboew43 & Stacker1962
I (Jaboew43) joined the site in October of 2008 because I didn't have time for traditional dating. Over the course of the last four months, I have met some interesting people. All the people weren't what they portrayed themselves to be, but from every encounter I learned something. Then in January of 2009, I met Stacker1962. He happens to be a homeboy and we clicked. I really feel the he is heaven sent and in four months we will be going to Africa for two weeks. What make this trip so special is that Stacker1962 is a contract worker in Iraq so when we met we only had two days to spend together. He is a true gentleman and he make me feel like a queen already. We talk on the phone every chance we get and I know this is the man for me. Thanks BlackSingles, for finding what was right under my nose.

Jaboew43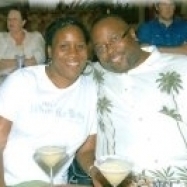 Smoothwriter65 & SShelton
How we Met:
12/15/2006
I always believed that what God has for us is for us, and past relationships whether good or bad, prepare us for the one that we will spend the rest of our lives with. After two unsuccessful attempts of matrimony, I almost gave up on true love. Then a friend recommended a dating website to me called Blacksingles.com. Much to my delight, a coworker had recommended the same site to Selisa. I was at the end of my subscription with all hope lost when I got a "smile" from the prettiest girl on the website. We exchanged emails in the system and finally went on our first date at Jerry's Seafood. Many dates followed and I realized that God had blessed me with the woman who touched my mind and soul. Luckily for me, she felt the same way.

How we got Engaged:
12/13/2008
Two years after our first date, we went back to one of our favorite restaurants for dinner, Jerry's Seafood. After the waitress took our drink and appetizer order I looked into her eyes and said, "Two years ago we had our first date right here. When I first saw you I thought you were beautiful, then after talking to you I found out you were also smart and funny, so I said to myself, don't do anything to mess this up so you can get a second date. After a few months of dating, we began courting and I said to myself, don't do anything to dishonor her or to dishonor our relationship. But tonight it is not about what I don't want to do, it is about what I do want to do, which is to love you, honor you, and spend the rest of my life making you happy." (Pulled out the ring) Selisa, will you marry me?" And she said YES!!!!!!
personalchef & qunali75
His Story:
I met qunali75 and that's a wrap. She is my soulmate. She is the real deal. We met approximately New Years Day and we connected like a light bulb to a socket. We have talked every day for at least 2-3 hours at a time; sometimes all night since she lives in Connecticut and I live in DC. We have decided to remove our profiles and take this newly found relationship to a higher level. She's my woman and I'm her man. That's right, I said it...and now THAT'S A WRAP!!!

Her Story:
I was sitting at home with friends on New Years Eve talking about my plans to go into the New Year without someone. My cousins said, "absolutely not". Big Will logged on to the "WWW" and pulled up BlackSingles.com. I was very hesitant about online dating on anything that suggested I upload pictures of myself to a world of strangers. After hesitation, I decided to step out of the box for the New Year and give it a shot. It didn't take long for someone to find me. It happened on New Years Eve. He viewed my profile and I viewed his. I thought nothing of it at first because he was in D.C. Me being the type of sister I am had no problem complimenting a brother handling his business. I sent him a comment and the rest is history. Now he's my personalchef.
Brighteyes71 & snipes1965
I met snipes1965 a week before Christmas in 2008. He sent me an e-card, stating he liked my profile. During that time, neither one of us had a picture posted up on the website. I wanted to let him know that I appreciated the compliment and was flattered, so I responded to him by sending an e-card as well. I read his profile, and what I liked most about it, was that he appeared to be very sincere in what he had to say. He appeared to be focused, down-to-earth, and very sure of himself in the kind of life he set forth for himself. Since then, we have corresponded in many ways: by email, e-cards, IM, and by telephone. After IMing him several times for several hours, it wasn't long before I felt a strong connection with him. He is a true gentleman at heart. We had our first date on Jan 2, 2009 and it was joyful, exciting, and emotional. What a way to start the new year off. Although, I've known him for only a month, it feels like I've known him all my life. He is a reflection of who I am as a person and mirrors a lot of what I see in myself. It's been great and we are already going on our forth date. When we are together, it's nothing but pure joy, lots of laughter, affectionate, excitement, and spiritual connection. You know when you have found the right one, when you feel nothing but absolute certainty. He is definitely a prime example of what GOD has intended a man to be and has the many qualities that I appreciate in my life. I am forever happy that GOD chose us to be together….Thank you for your blessing!
Ladypioneer
Hi my name is Angela and I met a wonderful man named Carl off your website a few weeks ago! We started instant messaging each other and sending emails back and forth before deciding to exchange phone numbers, etc. On our first date we both knew that we wanted to pursue each other and not look any further! We are both very excited to have found each other on by joining BlackSingles. We will keep in touch as our relationship progresses.

Thanks so much,

Angela & Carl
lucky756 and virgodiva828
My sweety and I met on your site on July 9th, 2008 and have been together ever since. We fell in love about three weeks later. It was love at first sight. He is such a sweet person and we have a lot in common. We were both looking for the same things in a relationship. We plan to get married sometime in the near future. I haven't been this happy in a very long time. Thanks Black Singles!

lucky756 and virgodiva828
MissCappuccino
I found the man of my dreams on this site after only a month. I found the perfect man for me right when I was about to give up; he sent me a card that touched my heart .A few calls later, we met and fell in love. Thanks again for the site.

Happy in Arkansas
HappyFeet14
I met a great guy on your website, but I wasn't a paid member. From reading his introduction and seeing his beautiful pictures, I knew I had to have this guy. I contacted him via other personal means. He responded to my inquiry and we hit it off instantly. I feel that I have met my mate. Thank you for introducing me to my man and for your help in helping me find my love!