Success Stories: 2009
eye4desgin & fingers2010
Thank You so very much; I found my match. I was so impressed by the profile of finger2010, but was reluctant to contact him because he was a entertainer and must meet many women. I keep reading his profile and could not turn away from him. Surely I could let him know that I valued him as a person and wish the best in his search for his perfect match. Little did I expect we would have a strong spiritual bond and were both drawn to each other. We talked several times a day and have agreed to stop our search and date and get to know each other better. I would have never thought it would be possible to meet such a kind, caring, and loving person as him. He was a 100% match by your site, but I was not sure we were right for each other. Black Singles, you truly have a blessing on your service. You are professional, and the quality of matches are great. You are very real to me and we both thank you for being there.

eyedegsin & fingers2010.
EcclectiCnSoulfuL
I saw her profile picture and from reading her introduction, I was instantly intrigued. Although I was not a paid member, I felt that if she was interested and responded to my smile in which I asked her if she was interested, I would gladly pay for the membership. However, I had received a notification from a social network stating that someone wanted to be friends with me, and it turned out to be the girl I met here on BlackSingles. Though we did not get to fully contact each other through BlackSingles, it provided us with a stepping stone to a promising future together, and I thank you.
sonnyj1962
I want to thank BlackSingles.com for making it possible to meet the woman of my life. I never believed in meeting someone over the internet. I placed a profile of myself on BlackSingles on July 27, 2006 and on July 17, 2008 I married the woman of my dreams.
Her name was LaVera, now she is my wife. Mr & Mrs Sonny and LaVera Potts. I have never been so happy in my life. She was a perfect match. She is more than perfect in real life. Thank you for putting together a great program that really works.

Truly,

Sonny and LaVera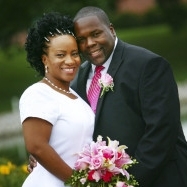 AradiantOne & MrFixit3571
Many men approached me on this site with intentions that differed from mine. However, one man arose from the crowd and claimed me without hesitation. With the phone conversations that followed, we realized that we were a couple almost instantly. Before we knew we are inseparable.

Take it from two people 500 miles apart, with this site you joined us as one. True love knows no boundaries. We just needed the right ingredients (ARadiantone and Mr Fixit3571) and the mixing bowl (Blacksingles.com) We started talking on the site on January 1,2009. The outcome is, I will be moving to his state at the end of the school year and I am interviewing for jobs as we speak. All stemming from a surprise visit(1st time face to face) on January 10, 2009, where MrFixit3571 asked me to marry him in a crowded restaurant with onlookers waiting my answer. Somewhere in the midst of my tears of joy, I said "YES!" without doubt. By the way, the diamond ring was absolutely gorgeous. BLING! BLING! I was teary eyed as I thought about it the entire evening! Anyway, thanks for everything.

ARadiantone & MrFixit3571

***Updated 6/25/09***
MrFixit3571 and I will be exchanging vows in 21 days. We have posted our engagement on facebook. We are using an officiant for our union, who will mention how we met. Our first dance will be to "Computer Love". hehehe! He is still the same sweet man I talked to through this site. I thank you again. I would like to share my Blessing to all if given the opportunity!

Aradiantone

***Update as of 7/11/10***
We are celebrating our year anniversary this weekend 7/11/10.

MrFixit3571 and ARadiantone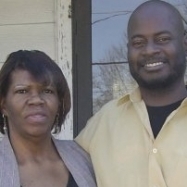 Tyngeraye & Libera34
WE MET ON BLACK SINGLES ON JANUARY 5, 2008. HE SENT ME A SMILE AND I RESPONDED WHEN I SAW THAT SMILE OF HIS. I WAS A LITTLE NERVOUS AT FIRST BECAUSE OF THE DIFFERENCE IN OUR AGE. WE FINALLY MET AND WENT OUT FOR DINNER AND A MOVIE, CAME BACK TO MY PLACE, AND WE SAT AND TALKED FOR A WHILE. IT WAS GETTING LATE AND I WENT TO SLEEP ON HIS SHOULDER WITH NO WORRIES BECAUSE MY BODYGUARD WAS NEAR BY. HE DIDN'T WANT TO LEAVE. I HAD TOLD HIM I WOULD BE VERY SURPRISED IF HE MAKES IT PASS TWO MONTHS; "SOME GUYS I MET DIDN'T MAKE IT PASS TWO MONTHS. HE SAID VERY CONFIDENTLY NOT TO WORRY, HE WOULD; I LIKE THAT. WE GOT ALONG GREAT! BEING WITH HIM JUST SEEMED SO UNREAL, WE HAVE SO MUCH IN COMMON. THREE MONTHS IN THE RELATIONSHIP I ASKED HIM TO MARRY ME AND HE SAID YES. I GAVE HIM A RING, THEN THE NEXT MONTH HE GAVE ME AN ENGAGEMENT RING; I WAS ON CLOUD NINE. IT REALLY SEEMED EVEN MORE REAL. I DIDN'T THINK WE WOULD GET ALONG BECAUSE OF THE 12 YRS DIFFERENCE, BUT THAT IS A PLUS, WE RELATE TO EACH OTHER WELL. IF I HAD TO DO IT ALL OVER AGAIN, I WOULD. I NEVER THOUGHT I WOULD MEET ANYONE AS SWEET AND KIND AS HIM. THIS IS OUR STORY, WE ARE "SOUL MATES". WE WERE MARRIED NOVEMBER 21, 2008.

THANK YOU BLACKSINGLES!

ISAM AND ANNETTE
LONGVIEW TX
Mr69flavors
It took a short time for me to find true love thanks to Black singles. I meet a very nice lady whom we have so much going for ourselves in such a short time. I never felt I would meet someone online just chatting, but things have changed for the better.