Success Stories: 2010
Classychick_tx
He sent me a card, maybe a couple of cards, and when we met we just clicked. It was easy for him to 'see' me because of this site.
Histreasure10
I always thought that the sites were full of men that were just trying to play games. So I decided to stay off the sites for a while. I thought that the sites cause a lot of confusion, because there are many serious people on the sites and some that are not too serious.

I tried other sites before and removed myself because I did not want to get in the way of destiny. I am one that I feel that a lady does not have to look for love. I believed that true love would find you, whether it was in the grocery store, church, or just walking in the park. If you just wait and if you are patient believe me it will happen. However, I did not expect it to happen on the site.

Well for some reason I tried Black Singles and I was not a member yet, but the second person that hit my profile, caught my attention. I just tried it for the interest of meeting someone to go to a movie or to dinner. I never thought that I would actually meet the man who has captured my heart. We are both happy and we believe that we have both found our destiny and we are going give this path a try...

Trisha
Margo58
Some of the things prior, and present regarding how this relationship got started and what sparked my attention to this wonderful man:
# 1 his smile and his eyes that melted my inner soul. I felt that if he would accept my
interest, we would make a beautiful connection, and we did. After sending him a smile and receiving a smile in return, we started chatting, then we exchanged phone numbers it was uncanny how we have so much in common, especially since he has no children and has never been married, and
is simply the most handsome, intelligent, lovable man any woman could hope to meet. After weeks of talking to each other, one Saturday we decided to
meet halfway from our points of residence. It was a blast! He is such a gentleman, not just in stature, but gentle in nature, funny, talkative, warm, and sensitive with the wonderful smile and good looks that were very important to me, and has a job. In essence, he's all the I had prayed that God would Bless for my life, and he says he feels the same way. By the way, he told me he thought he loved me before we met, and now I love him too and am looking forward to the opportunity to fall in love with him completely.

He and I will be spending a lot of time together, and will work with the distance (almost 500 miles away). You know he's the first person I say good
morning to and the last to hear Good night from. He contacted my son who lives in NV to say that he's in my life and that his intentions are
honorable, and that we will plan a trip there (NV) within the next few months so that they can meet and connect. This has never happened before with anyone that I've ever been involved with(He's Wonderful, Wonderful). We've planned
a trip to FL. on which we will be committing ourselves to each other. We'll become pre-engaged at that time. He says he wants to marry me by June of this year, and doesn't want to wait years trying to get to know each other, and risk the chance of loosing me now that we have been so Blessed to find each other. The engagement ring will come later (Exciting)! We are truly planning a life together and we're so Happy that it's actually scary.

This is the best time of my life because I have
finally met the love of my life, my true soul mate. We were meant for each other, just had to wait on God to present the right time, and that time is now.

Thank you,

Margaret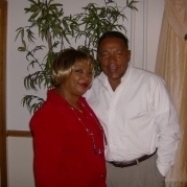 aprilsade & teddy66621
Thank you and your staff for leading me to the man of my dreams. It's a long distance relationship [foreign country], but I received several visits. My plans are to visit him in April of 2010. We are quite happy and looking forward to happiness.

teddy66621 & aprilsade

Thewise1
I met a very wonderful woman on here. We chatted for a while and we connected on so many levels that was just amazing. Because of your site we are happy together and I am thankful for she is a outstanding woman. To those out there searching like I was, good luck to you and may god bless you in your search.
jladygee10 & Iamcaring
I met a wonderful man on your site and we're very much in love. I am very glad I decided to join BlackSingles when I did. His username is Iamcaring and he's definitely caring. He's everything his profile said he is and I love him dearly. We've talked about marriage and I'm looking forward to that day. Thank you from the bottom of my heart for sending me such a wonderful man. He is truly a blessing sent from God.