Success Stories: 2008
gaveryjr & Valerie
My profile had been on-line for awhile when I decided to upgrade. On that same day, I read Valerie's profile and sent her a smile. It was the last day of her upgrade and so she renewed so we were able to IM each other. We talked on the phone and met later that week. Everything just fell into place from that point on. Her profile was honest and I thank Black Singles for bringing us together.
feleica & trueful
I have been on BlackSingles for the past six months and now I have finally met a wonderful man. His name is "trueful". We have been talking for the past two months and then he came to see me in Antigua. He spent one week with me here and it was wonderful. I believe that I have found the one that I have been searching for. We are so in love! He is from Atlanta and he is coming back in June to Antigua, for us to get marred. THANK-YOU BLACKSINGLES, FOR HELPING ME FIND THE LOVE OF MY LIFE.
Jflower
As I was about to cancel my account and try something different, I decided to contact the people who had given me their phone number to inform them that I was leaving the site. A man from Atlantic, NJ was one of them and from that day, we've not miss a day. We plan to get married in the near future. So thank you BlackSingles.

P.S. I never dreamed I'd ever go this route to meet someone, but I couldn't have met a more precious jewel. Thanks again for matching us with each other.

God bless.
Thanks2442 and MrSwift
I met MrSwift on BlackSingles. From our first conversation, we knew that we were meant to be with each other. As we spent time with each other, it became very clear that we would spend the rest of our lives with each other. One May 9th, MrSwift asked me to be his wife and I said "YES". We are going to be married on October 4, 2008

Thanks BlackSingles, for being the tool that was used to bring us together!!!

Thanks2442 and MrSwift
msdiva21 & uluv2luvme
Well, I signed up with the website on March 1, 2008. From the moment I signed up, I had been receiving several smiles and cards. However, there were none that really peaked my interest. After a month, I did see someone that could be a potential match and I sent him a smile letting him know that his profile interested me. He thanked me and asked if he could take me out for dinner. I accepted the offer with a little hesitation because this had been my first and only time using an online service to meet people. Well, dinner went well and we both have decided to cancel our services because we didn't feel we needed it anymore. His username is uluv2luvme. This is also his first time using an online service as well. I really enjoyed the services. Keep up the good work.

Sincerely,

Lynette
tbarnett
I had almost given up, but this wonderful man saw my profile and e-mailed me. He is the man of my dreams. He is wonderful, kind, gentle, and most of all he is a CHRISTIAN. I want to thank you for your web site and may God bless each and everyone of you.

YOURS IN CHRIST,

Benita Miller
sheeba78
I met someone on this website. We are in a committed relationship and getting stronger each day.

Thank you Blacksingles, for giving me a chance to meet the person I've been looking for in my whole life. We agreed to remove ourselves from the website so that we can concentrate on each other. I wish I could stick around, but I have a life to make with a person who really loves me and is ready to start a new beginning with me.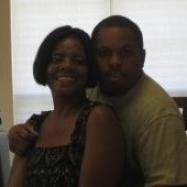 Sharond42 & Area51
Her Story:
On April 28, 2008 I met area51. He is a 100% match and I was so excited, I had to see what he was all about. I had only been on BlackSingles one month and I met the man of my dreams. We chatted a little on-line and we had so much in common that we exchanged phone numbers and made a date. So he met me the next day at my job for lunch and after lunch he asked to see me again that evening. We have been seeing each other ever since. He has turned out to be a wonderful man of God and he walks with me and talks with me and holds my hands like in the old fashioned days. Timothy has been on your website since 2004 and I had a couple of dates, but nothing promising.

His Story:
I had almost given up on finding someone when I received a spark from sharond42. We chatted on-line together and when we met, I knew she was the women I have always dreamed of. Thank you BlackSingles, for being an instrument and help bringing two people together. To God Be The Glory! P.S. I hear wedding bells!
net102
Thanks to BlackSingles, I have truly met my soulmate. I was a little uncertain at the time I joined as to my expectations or who I would meet. I have truly met a wonderful individual and I cannot thank this site enough for allowing me to be blessed, for I have found a truly beautiful and loving man who I have come to love so dearly. BlackSingles, you have it going on! Thank-You from the bottom of my heart for allowing us to come together! I have finally found my "soulmate" for whatever years we may have left.

Thank You!