Success Stories: 2008
jlo114 & Lookingfordarealwomen
We thank BlackSingles for their web site. All I know is that we talked on the phone for a couple of days and found out we had a lot in common. When I found out that we both love the Lord, it was a wrap. After that first dinner date, we become so close that no one or nothing could come between us. He calls me his Queen and to me he is my King. Thanks BlackSingles!

Lookingfordarealwomen & jlo114.
fluffyFun1
I had actually met a few guys on BlackSingles before I met Anthony. I had logged on and was looking to see who was chatting in my area. I didn't match what he was looking for in his profile (5'8, athletic build, slim. I'm 5'4 and need to lose a few!), but I figured single guys usually know other single guys so I was going to use him for networking to find a guy. I mentioned that I knew I didn't match his profile, but asked him if I could ask him a few questions. I first asked if he had any success on this site. He had met someone, but it didn't go anywhere. I told him what my intentions were about networking since I have single female friends that would fit what he was looking for. We chatted for a while and I guess my sense of humor and my way of looking at things got his attention. We exchanged phone numbers and immediately started talking on the phone. He wanted to meet, but I kept telling him I wasn't his body type. He kept saying that he liked my personality. When we finally got off the phone, I decided to meet him as soon as possible because if he didn't find me to his liking in person, I didn't want to waste his or my time getting to like each other over the phone. We met 3 days after I started chatting with him on this site. We met in a public place. I had to go look for a birthday present and shopping is a good way to see a persons taste in things and I figured if we didn't click, the whole date wouldn't have been a loss. After we went shopping, we went and had Mexican food and then decided to go to Fremont Street Experience here in Las Vegas because neither of us had been yet. We spent over 7 hours on our first date. We've been together almost 3 months and spend a lot of our off work hours together. He still hangs with the guys from his job and I go out with my friends, but he will call me or text me whatever he is doing. I like him and he likes me. Thank you BlackSingles!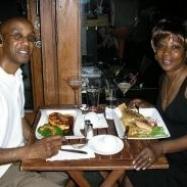 giavanni & luckycharm_1957
It is such a pleasure to inform you of the love connection between myself (Giavanni) and the love of my life (luckycharm_1957). We met on BlackSingles recently and connected immediately. Just when I was about to give up my search on BlackSingles, I read the profile of luckycharm_1957 which prompted me to contact him. What a blessing it was! I instant messaged him and he responded. After chatting, we set a date to meet. I knew in my heart when I first saw him that he was the one for me. It was so amazing how much we had in common. Not to mention, luckycharm_1957 was about to give up his search also until I contacted him, now that is really having something in common (smile). It feels so good to have that special person in my life. We thank you BlackSingles. May you continue to bring couples together on this wonderful site.

Yours truly,

Giavanni and Luckycharm_1957
deepnchocolate
While searching on this site for a mate, I came across a few guys who I had nothing in common with. Then, I met this man who turned out to be a wonderful and fantastic guy. He's everything I wanted and dreamed about. We have a lot in common. We both like the movies, the beach, exercising, walks, and eating out. Thank you BlackSingles for this opportunity to meet this guy. Wish me luck!
discipleforgod & videopro2
Thanks to your site, I have met my soul mate. I met Vernon from Rocky Mount, NC. We having been dating and have now set our wedding date for August of 2009. We thank you from the bottom of our hearts. If it was not for your site, I would have never met this spiritual, awesome, wonderful, handsome, loving, kind, faithful, sensitive, and charming, man. Thank you and we will always have a story of how we met through your site. Thank you,

Sherry Coleman
Pessoa & Isams1754
I met many wonderful people on this site, but never the right one. After many dates and making new friends, I felt there was no one for me. I've been a member since 2003 and I would read your success stories and laugh because I felt that the stories were mainly fictitious. That is until it happen to me, I could not believe it. Isams1754 sent me a smile and the rest is history. We were married on June 24th 2008. I would say faith, hope, and not giving up paid off for both of us. So, to all the ladies, I say hang in there. You may have to kiss a lot of frogs before your prince charming finds you. So hang in there!
Tinanash6
It's like two souls finding each other at last. I feel like I'm sixteen again. He respects and appreciates me. He worships the ground I walk on. He admires my strengths and takes me for what I am. When we had a tiff, it was difficult, but we soon made up after discussing it and neither one of us came out feeling bad nor did we blame each other for the misunderstanding. The experience was just as it should be with a couple. This took place after we had decided to go steady, so it was quite a scurry for a while. But I know I must give it all my attention and so does he. We enjoy our times together. Only time will tell the rest of our story, but for now, I am his lost parts and he is mine.
jkanu01
After 2 months on BlackSingles, I met the person I think could be the one. He is loving, caring, and we talk for hours on end about everything. We have everything in common and I'm not interested in talking to anyone else. Thank you for helping me find the one I could truly fall in love with.
akildre
I met a wonderful women from Philadelphia, PA. We started chatting, then we exchanged phone numbers, then we met each other and this all happened once I became a paying member of BlackSingles. So, I am grateful for this website and good luck to all the other folks out there looking for that special someone.