Success Stories: 2008
Coccapuff
At the time I joined, I was a very uncertain to my expectations or who I would meet. I was very concerned and very undecidable to join Black Singles and to share my hearing impairment disability at that time. After trying other dating services, Black Singles had given me the opportunity to give this site a try for one more time with great efforts.
Well, I have FINALLY found love. Ohhh yes, that is right. This great guy, well, was with Black Singles and we were "Love at first site." It took me a while to respond to his several emails until I finally decided to follow my heart without my expectations and/or who I would meet or not meet. I want to say thank you to BlackSingles, I have truly met my soulmate. After 15 years, I must say this, he was worth the wait.

Thank you Black Singles!

Coccapuff

theresa941
I met someone on Blacksingles six years ago and just recently hooked up again with this man. After hooking up again, I realized this man was who I was looking for all of this time. Thank you Blacksingles for bringing us together!
micara247
My name is Micara and I joined BlackSingles in September of 2007. I met my boyfriend on this site 7 days after joining. Nine months later, we have visited each other 4 times (I live in London UK, and he lives in USA). We are about to get engaged in July. We have a wedding date set for 12th March 2009 and would like BlackSingles to attend.

Our wedding is going to be a beach wedding in Orlando. All of our families from London, UK, USA, and CANADA will be in attendance.

There is a lot more to our story...(jaw dropping stuff!!)too much to write...Stay blessed!

Kindest Regards,

Micara
thaboss83
I have met a very spectacular female from this website. Now we are embarking on a committed relationship that will hopefully last for a long time. We get along great.

I have become a member on a lot of dating websites, but never could meet anyone serious until now. I wanted to thank BlackSingles for giving the two of us the opportunity to get to know one another.
NiftyFifty
I never thought that I would meet someone through an online dating service, but I have meet my soul mate. David is the most wonderful, honest, and trustworthy man I have ever met. Even though we have not physically met yet, we have exchanged photos and numbers. David is working on a project right now in West Africa, so he will be away for a while. He sent me three dozen roses and no one has ever done that before. I would recommend this site to any single person looking for love.
tweety482
What can I say? Eggie and I met and sparks flew. The magic was immediate. We are so compatible in so many ways. He is the love of my life and he tells me I am everything he ever needed or wanted. We are very happy together. Thank you!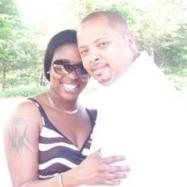 ebony4u_75 & NYKNICKS1
HIS STORY:
May 19, 2008 was the day that I met my future wife. The moment I saw her and read her profile, I knew that she was the one. She was so different than any other woman that I've ever encountered. I also knew that I really want to get to know her. So I took the time to read her profile and understand the woman behind that beautiful smile. I sent her my phone # and she called. Let me say this, the moment I heard her say "May I speak to Robert?" I was reborn. I fell in love with her right there on the spot. The rule of thumb says that's too soon, but when that person steps into your life and she makes the world stop, you know it and there isn't anything you can do to slow it down, because it's really God sending you your blessings and your personal angel all in one. On our first date, I swear I couldn't even look at her because she is sooo beautiful. However, she relaxed me and made me feel safe with her. I was able to really talk to her and also express my feelings, without her looking at me differently.
I was on black singles to find my wife, my partner, my lover, my best friend, and she has taken all of those titles so gracefully, like they were tailor made just for her. This is for you Ebony4u_75:

I have always dreamed of having someone who could change the forecast in my world, someone who I could laugh with, cry with, and of course build a future with. I can't imagine that not being you. Somehow you came to me and showed me that there is a perfect woman just for me and one day very soon I will be married to her and live out all of my dreams and wishes. I don't want anything else baby. I am off the market. I can be the best at everything now, as long as I have you. I can't do this without you and you have proven to me that I won't have too. I love you for life baby!

Thank-You Black Singles!

~NYKNICKS1~

Her Story:
May 19, 2008 was the day that changed my world. He is truly designed for me and to God I'm thankful. I've gone through hundreds of smiles, but no one reached my core. My patience was running thin. My words to those seeking their designed partner...continue to pray and be patient. He will come for you. This is dedicated to my future husband, NYKNICKS1:

I decided to throw it all away because of all of the doubts and previous hardships that I have encountered. I needed to open up my heart and love again. See, I'm in love and it's like no other. It's different because every moment of everyday is spent thinking of you. It's different because if I am away from you for more than 15 minutes, I begin to miss you. Unexpectedly, you came to me. At first I was thinking "could this be real?" But then, as time progressed, I realized that you are everything that I ever dreamed of. You are the one that I can see myself with for an eternity. The words that you whisper in my ears are words of love and compassion that is so real. See, you may not be perfect, but it's alright, because I know that God has made you just for me. You are the one that when I look at you, I know that my world will be alright. When I think of how you're there for me and how special you make me feel, it makes me realize that love is possible. That there is someone out there just for me. So I will take advantage of the time that I have with you and cherish every moment that I am in your arms.

Thank you BlackSingles, for bringing us together.

~Ebony4u_75~
shalishan & Anya
Hi members! I've been on this site for several months. I've met some people, went out, and then...I met Anya from Australia. It's been heaven on earth. She's so sweet, caring, kind, and she loves me like I love her. All the best to all of you!
SOILAREYNA
WE MET TWO YEARS AGO. WE STARTED TO DATE, BUT THINGS DIDN'T WORK OUT LIKE HE WANTED, BUT WE REMAINED FRIENDS. LAST MONTH WE REKINDLED THE FEELING. WE ARE SO IN LOVE AND HE IS A GREAT AND WONDERFUL PERSON. HE LOVES ME UNCONDITIONALLY ALONG WITH MY CHILDREN. I LOVE HIM AND WILL TRY TO MAKE HIM HAPPY THE REST OF OUR TIME TOGETHER. I AM NOW READY FOR HIM AND ALL HE HAS TO OFFER. HE WAITED UNTIL I MATURED MENTALLY AND EMOTIONALLY AND NOW WE ARE SO HAPPY. SEE GOOD THING DO HONESTLY COME TO THOSE WHO WAIT. I WISH ALL THE OTHER PEOPLE OUT THERE LUCK AND HAPPINESS; DON'T GIVE UP. SOME MEN ON THIS SITE ARE LOOKING FOR MORE THEN JUST A FLING. TAKE YOU TIME AND YOU WILL FIND HIM. MEN, YOU WILL FIND HER; IT WILL COME FROM THE HEART. THANK YOU!