Success Stories: 2008
jolietsl
I've been divorced for 4 years and find it easy to meet men, yet difficult meeting someone who shares my values and interests. I'm fed up with dating the "traditional" way, I thought I'd give online dating a try...more like increasing friendships is what I told myself. Then I read this wonderful man's profile on your website and I kept reading it over and over again, analyzing his every word. We met shortly after I became a member and after our first date at Starbucks, I knew I had made the right choice. We have been dating for about 4 weeks and I look forward to us developing a trusting and lasting relationship.
fran9202
I had given up on meeting anyone. I changed my introduction wishing others well, but stated it wasn't for me. A few people messaged me that they wished me well, but one stood out. His words appeared to be sincere and we exchanged a few messages of support, I suggested he change his default picture because he was holding a beer in his hand and I thought there was more to him than that. He actually thanked me and changed his default picture. We eventually went bowling, talked even more, and I have to admit I was wrong. This site can be successful. He's a quiet place in a loud world, he's a man of strength and tenderness, he's kind and I felt the walls that I had built start to melt all around me. I never thought I would meet anyone who could make me feel this way again. I joined this site as a skeptic and I'm leaving as a woman looking forward to a beautiful, loving, and LONG lasting relationship. Thanks Black Singles! I found my prince without having to kiss any frogs!
Ladyblu06 & Goldyone
How a Prince and Princess Fell In Love...

I joined BlackSingles.com in May of 2008, as did Derrick. We were both on the site for approximately three weeks when Cupid's arrow struck us. Derrick had sent me a smile at first, then he sent me an e-mail. When I noticed that he lived in Washington, DC and I lived in Elkins Park, Pennsylvania, I was afraid that there would be too many miles between us to really spark a relationship, but I was wrong. I e-mailed Derrick and asked him if he thought that Philadelphia and Washington were too far apart, but to my surprise, he said that "love knows no distance." I had to stop and think, because I had never heard a more true statement. Well, after thinking about this statement, my mind headed in a different direction and it made me see that Derrick was a man who knew what he wanted and was going after it, which is the kind of man I was looking for. So, I asked him to send me a picture. When I saw his picture, I definitely liked what I saw. At first when he wanted to talk to me, the "shy bug" had taken me over and I declined talking to him. But when he requested to speak to me a second time, I couldn't deny him. That night we talked to each other on-line for three hours. It was like we had known each other all of our lives. By 11:30 p.m. I realized that I had to get off-line because we both had to go to work the next morning. But our connection was so strong, that after I got off-line, I called him on the phone and we spent another hour talking to each other. From the time we met, we were inseparable. Everyday we were either on the computer or talking on the phone. We talked about everything under the sun and the conversations were getting longer. Talking to him, I learned that we had a lot in common. I had gotten to the point where just talking to Derrick would make my heart melt. This made me realize that I had found my Prince Charming.

Derrick wanted us to meet in person right away, but I wanted to take a little more time to get to know him better. By the time we set a date to meet, we were already bonded by heart strings. Being that I was going on vacation soon, we set a date for him to come to Philadelphia on June 4th. When Derrick got off the train and came up the steps, I was even happier with the man who was standing in front of me than I was with the picture. While he was visiting with me, I just wanted time to stand still. Derrick is a very compassionate, thoughtful and caring man. We had such a good time together. When he left Philadelphia, I knew that this was the man for me and that I never wanted to let him go.

At first I was a little hesitant about joining BlackSingles.com, but now I am so glad that I did. I've finally met a man who makes me happy and makes my heart feel complete. Thanks BlackSingles.com for helping to bring us together.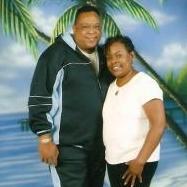 gdials & Bigred49erplayer
Last year, one of my girlfriends suggested that I try on-line dating, since I didn't get out much. After much thought, consideration and reluctance, I signed up on Blacksingles.com on April 16, 2008. Initially, I received "2" smiles from Bigred49erplayer on May 6,2008 and a spark from Bigred49erplayer on May 7, 2008. I replied on May 7, 2008 and our communication increased slowly over a period of a few weeks. We shared personalized cards/conversations with the ability to converse on any and all topics comfortably, almost as if we had known each other previously for many years. Little did I know that this was the beginning of a beautiful friendship. Bigred49erplayer referred to me as his "Queen" and himself as my "King". I didn't believe he was genuine and spaced my responses due to the fear of the unknown. In June, I still didn't think that he was the one for me and so I continued to visit the website for matches with little or no success. Then, I decided that I needed some time off from the website. He agreed to give me space, but advised that I can run, but I can't hide and that my "King" would be waiting. He shared his belief and trust in God and was very adamant that we were destined to be together.(Yeah right-I thought...) He appeared very honest, old fashioned, and respectful in every way. I was in denial-disbelief because he sounded too good to be true! In the interim, we discovered that we have an enormous amount of things in common. I began to think about him, visit the website and view his profile and photos. Finally, I sent him a card to say hello, he responded stating that he too had been thinking of me. We then agreed to meet as soon as possible. We met in person on June 29, 2008. Bigred49erplayer is the epitome of a Gentleman"... a real "man". He doesn't just talk the talk, but he walks the walk! In retrospect, I wish I had met him sooner. However, good things come to those who wait. We are very thankful to God first and foremost and to BlackSingles for making this meeting/union possible. I'm sure that as long as we keep God in the forefront of our relationship, nothing is impossible.

SORRY LADIES...... THIS MAN IS SPOKEN FOR... GOOD LUCK WITH YOUR SEARCH!!

P.S. Well, I am no longer a skeptic when it comes to online dating/websites...

Sincerely,

Gloria
Marc_G68 & Catwoman41
It all happened suddenly...I Marc_G68 met the love of my life, Catwoman41. All I can say is that prayer works, I never imagined in all my days of dating that I would meet that special someone on a dating service. She is unbelievable and incredible, and means the world to me. Love is what we have for one another. Thank you BlackSingles! Keep making matches and dreams come true.
SugarSpice333& Marcellus
I met a intriguing man named Marcellus from Virginia. He's everything I want in a man. He's responsible, consistent, attentive, romantic, and oh so funny. He has a great sense of humor which I really like. He's what I call a "Real Man". Thank you BlackSingles, for setting up this forum. I'll keep you posted.

Peace and Blessings,

Denise
diali2 & Gross6
Her Story:
Gross6 and I met and an instant attraction was acknowledged by the both of us. He is a very warm and caring individual and we discovered that we have so much in common. We both share the same values and standards of how a relationship between a man and woman should be and he is indeed my perfect match. We both agree that we want the same things in life and have started dating exclusively.

diali2

His Story:
I have met a wonderful and very intelligent and beautiful lady, diali2. We have a lot in common and share the same interests. Diali2 is a blessing from the Lord. She is my soul mate. Thank you for matching us up. I would recommend Blacksingles.com to all of my friends. Peace and Blessings to all of you.

Thank you!

Gross6
Tarboro1966
I have met someone that I feel will join me as one...I want to thank you for such a beautiful site. The King that I met is one of a kind and I thank Allah (God) for meeting him. If it wasn't for this site, he wouldn't be in my life. Today is my last day here, but this site will never be forgotten. I have encouraged several of my friends to join. Once again, thank you!

Blessings,

Tarboro1966- A.K.A. Deb.
tiza23
I have been dating for four months now. He is a great guy and everything I have been looking for. When we first met face to face, we hit it off very quickly. We have a lot in common and it didn't take long until I fell in love with him, even though the relationship is long distance and costly, but well worth it when we see each other. I hope one day soon I will relocate to be with him and hope for a possible marriage. I always hate to leave him because I love him very much and we will be together soon.

***Updated 3/25/09***
Its been over a year now and we are both still together. Its a long distance relationship and many people always said a long distance relationship never works, but if you love each other it will work because we have proven that. Planes and cars do exist. If you are really in love like we are, you can see each other. Curtis and I have proven that and I want to thank Black Singles for this site. If BlackSingles never exist, I would never have found him. I wish I met him many years ago. He is my soul mate, my lover, and my friend and distance is not stopping that. But one day we will be together as one; no more departing from each other. I always hate to leave him. The hardest part of the long distance relationship is leaving each other. Our bond is so strong we both know we will be back in each others arms again; no distance is stopping us. Curtis and I have something very special, it goes deeper than the heart. Marriage, it will come. We are still building up our relationship. Its like construction...when it is finished, everything comes together and looks beautiful and that is what we are working on. Once its done, our love will go on forever. Once its made, it stays...that is us. So BlackSingles, again thanks!

Petrice & Curtis