Success Stories: 2006
marycarmen & gshin
I met "gshin" on BlackSingles.com (formerly Black Singles Connection) and am so happy with him, we are planning our life and future together now, and now live together as a couple. There are wedding bells in the air, and we could never have met without BlackSingles.com. I recommend it very highly, because it has brought happiness to us. Once again thanks BlackSingles.com, you have made our life whole and very complete.

**UPDATED Jan 25th, 2007**
We still together and we are
Expecting a Baby!
michellehlms & hillsrashawn
Hi Tasha,

I would like to thank BlackSingles.com (formerly Black Singles Connection) for connecting me to my soulmate.

My user name was "michellehlms" and his was "hillsrashawn". We plan on being married before the end of this year. We will keep you informed and send pictures. Again thank you BlackSingles.com for helping me connect with the man of my dreams.

To all the others that are on BlackSingles.com don't give up because your match is just waiting to be discovered. Remember patience is the key to everything. My patience paid off now I'm engaged to be married. This love connection does work, just give it time to work for you.
indylady69 & citysingle
In late January 2006, I posted my profile. I was "indylady69". In all honesty, I wasn't expecting anything to happen, this was just something to pass time and it was fun. Well, about 1 week after posting my profile and pics, I received a smile from "citysingle". I smiled back and the rest shall we say is history. After exchanging several smiles and cards, we exchanged email addresses and phone numbers. For the entire month of February, we spent hours conversing and emailing each other and established a strong bond and friendship before we actually met. We met for the first time the weekend of March 3rd 2006, and we felt just as strongly about one another as we did on the phone. He lives in Mass., I live in Indiana approximately 900 miles away. We are planning another visit the first weekend in April, and we both can't wait! I don't know what the future holds but we both want to thank BSC for the opportunity to meet one another. We are both very happy.
Onemommyof22003 & Marques32
I met my BEST FRIEND, Marques32, on BlackSingles.com (formerly Black Singles Connection). Just when I had given up on LOVE! :O) He is the man of my dreams. It was love at first sight. He is the real version of a TRUE MAN. I have fallen head over heels. We are very much feeling each other. Thank you soooooo much! We will keep you posted as to the Wedding Bells in the future. Be blessed!
AtruSista4God & Caribbeanblack62
Dear Tasha,

The wonderful man I met on your site is "Caribbeanblack62". He is from the Netherlands. As I told you earlier, I am a clergy and in the church very heavily I have my own ministry. I never thought I would meet a man who is just as sold out as I am with Christ. I have been divorce now 8 yrs and have not really dated anyone since the divorce of my ex-husband, and have raised my children by myself. He has been divorce 14yrs and has raised his children by himself we have so much in common and a similar past. It was like God created this match in Heaven. He has a tender heart, and he loves God and he is saved and spirit filled just like I am.

He has so much compassion for souls and so much wisdom. I am crazy about him as he is me.

I know in my heart that this is the man that God has chosen for me and he likewise knows that I am the woman that God has chosen for him too. He will be moving to America in about 1 yr and the wonderful thing about it is that he is a man of such principle that he dos not need me to do this move. He is preparing himself for it on his own and that is awesome. Praise God.

Oh yes and we are planning to make our life together as well so this is going further than boyfriend and girlfriend stuff - this is marriage material. All I can say is that God is an awesome God.

Thank you once again for your support and your service if you wait on the lord he will bless you.
diva4life1 & mandingo68
I would just like to take the time out to thank you all for putting this website together. It has truly been a wonderful experience. I prayed that GOD would bless me with a beautiful man, and he did just that. The distance between us does not interfer with our wonderful relationship. We both feel as though we've known each other all our lives. We have spent numerous amount of hours online, and on the phone. We also do a lot of photo sharing. I will be flying to Jersey in less than two weeks to meet my man face to face. MANDINGO68 (who is my soulmate)and myself, DIVA4LIFE1, are already discussing marriage. YES ALREADY lol. He loves me and I love him dearly. GOD has truly answered both of our prayers. So for those of you that are seriously searching for your soulmate, don't give up. There is hope. We will keep you guys updated on when the wedding will take place. He's also making me relocate to where he resides. He does not want to come to Indy. lol I don't have a problem with it at all. So once again, thanks to Tasha, and everyone else for making it possible to find true love.

His Story:
I met my fiancee right here on BlackSingles.com! I couldn't believe it....she is so sweet, understanding, lovely and caring. My heart totally belongs to her.

My screen name is mandingo68. Her screen name was diva4life1. We will be planning our wedding by August or September. She's from Indianapolis and I live in New Jersey...She hates New Jersey!..lol...We are planning to move together somewhere warmer. We just came back from Pittsburgh, PA from her friends wedding. I feel like a man next to her. Love will always be there for you.

We are going to Paris, France for our honeymoon. She doesn't speak french and I do.

Thanks to you Tasha ....God Bless!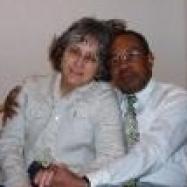 sands75 & pouchon59
Dear BlackSingles.com (formerly Black Singles Connection),

I joined BlackSingles.com early December 2005 and just after a week I met a wonderful man who is "the gentleman" he said he was. My user name was "sands75" and his was "pouchon59". Despite the distance, I live in Arizona and he in New Jersey - we have managed to build a quality relationship with lots of mail both electronic and/or postal plus lots of phone calls back and forth! He came to visit me in Arizona 1-20-06 and stayed for a week. What a week! We just talked and talked and got to know each other better. I am going to visit him and his
family 3-25-06 and will return 4-1-06. There is lots of work ahead but the greatest part is done. The photo I am sending was taken 1-27-06 right before I drove him to the airport. The rose on the table was the same one he brought for me the day he arrived. He also surprised me and sent me one dozen red roses (my favorite) for Valentines Day. How romantic is that! :)

Good luck to everyone out there! Keep trying, magic does happen.
stcy1 and charlyne
First, I would like to thank BlackSingles.com (formerly Black Singles Connection) for bringing the love of my life into my life.

We started chatting and the conversation was great!! We had a lot in common and laughed all the time. The more I spoke with him the more I loved about him. We would always stay up late talking on the phone and discussing me flying out to see him.

So, the day finally came when he sent me a ticket and I flew, nervously, to see him.

He had made wonderful plans for us, when I arrived it was so nice just to be together we ditched our plans and played it by ear. We had a wonderful time.

When the day arrived for me to go home, I was very sad, it seemed something I had been missing in my life had finally been found and now I had to leave it behind. He bent down to hug me goodbye and I grabbed him around the neck and when he stood up I refused to let him go wrapping my legs around him and hugging him so tightly I didn't care who was watching after all we were in a crowded airport.

So I go home and go on with my everyday routine, however something, rather someone, was missing and I could not help but to think about him all the time. We continued to speak almost everyday on the phone, however we both longed to be together. Then one day he said he wanted to move to my city, I thought he was joking I just could not believe my prayers had been answered but he was serious and I flew out to meet him and we drove back. We are now living together and are very happy.

I now have the man I have been looking for, all thanks to BlackSingles.com.

So thank you, we would never have met if we had not found your wonderful site.
Still_Waiting & ICANHELP
Hi Tasha,

My user name was "Still_Waiting" and I wanted to let you know that because of BlackSingles.com (formerly Black Singles Connection), my true match was able to find me. His name was "ICANHELP". Let me first start off by saying that I was pretty detailed in my description of my perfect match, just to avoid any confusion. Due to my extremely detailed profile, he was not sure if he would be MY ideal match, but he didn't let that stand in his way of contacting me and letting me decide that one for myself. "ICANHELP" began corresponding with me via the cards on the site, however it was kind of a hit or miss - because we were on at different times. After a few cards, he gave me his number, but since I'm kind of old school, I sent back a message to him that I would rather he contact me first. So he did, and we had a great conversation and have had even better conversations ever since! After about a month of corresponding via the phone we decided to meet! Tasha, he drove 11 hours to my hometown just to meet me and we hit it off great! We are already planning for future visits - like within the next couple of weeks.