Success Stories: 2006
Edible111 & Mystique_love
It all started with me not being too sure about creating an account. I had never been too keen about online dating. One day I had an email sent to me from BlackSingles.com and I decided to take a look at it. After reviewing all the details, I decided to make a profile, just to see what it was like and why everyone talked about it.

The second , I had smiles and ecards sent to me. It made me feel really good that people were finding me attractive, so I decided to continue. The third day, I looked at a smile from this gorgeous gentleman, and when I saw his profile, I automatically fell in love. We talked back and forth on here for a couple of days, and found that we had more than just a couple of things in common. So I gave him my number, and we started hitting it off automatically. We are in love! After 2 weeks of not being able to get enough of each other, and we have made plans to move in together and raise our family that we already have. We know that both of us were heaven sent to one another, and I could not ask for a more perfect man. He is everything I have ever wanted and needed for me and my 2 daughters. Thanks BlackSingles.com for all the help, but most of all I thank God for finding my soul mate.

Edible111 & Mystique_love
kmet1 & bear6717
Thanks to BlackSingles.com.com! You have done a wonderful thing by having this site. I have met someone who I feel completes me. We have so much in common that it is unbelievable. We share the same interest, and our birthdays are the day after each other. Now that doesn't happen to often.

On June 28th, just as I was getting ready to log off, I saw that he was from the same town I was. I instant messaged him and we talked for about two hours. We decided to go to brunch and we have been talking every since. We both agree to take things slow and get to know each other. It was funny because he was just browsing the site, just checking things out, and along came me! So I would like to say to all my sisters out there looking for your Mister Right, don't give up just yet. God will send that special someone, just when you are ready to give up. As the old saying goes, He may not come when you want him, but he's always on time.
kmet1 & bear6717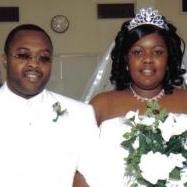 LOVE24_7 & SWEET2001
LOVE HAS FOUND US AT LAST

I joined BlackSingles.com the last week of April 2006. I have met quite a few people on it. I have sent quite a lot of smiles and cards and received the same. I upgraded my account by paying for a month subscription in the first week of May. I can remember one person in particular was sending me smiles and I kept ignoring them cause the picture she posted wasn't that captivating. After about five or more smiles, I finally sent her a smile telling her thanks for the smiles.

I decided to reread her profile. I then found out that we wanted the same thing and we have been through similar experiences. I IM'd her and we then exchange phone numbers.

I called her and ever since we have been communicating. I can't stop thinking of her. She captivates my heart and I couldn't believe I was ignoring such a warm-hearted person. She turns out to be a beauty out of Louisiana. She came to New York where we got more acquainted and there I found out she is the woman I have been looking for all my life.

I have said I would wait on God to develop friendship into love. Well, I'm proud to announce that it has happened and we will be married in December of this year.

I thank God for her. I would more than recommend this site to any one and I must say this site is number one. I wish every one on this site all the best that life has to offer.

**UPDATED Dec 28th, 2006**

I now live in Louisiana with my queen. I am so happy, I could never be more happy, we changed our wedding date to February cause I want my dad to attend from Jamaica.

**UPDATED March 13th, 2007**

We are now The Happy couple, We got married on February 17,2007 and honeymooned in Las-Vegas. It was one of the best times of our life. I ask God to be with us.

LOVE24_7 & SWEET2001
T913
I decided a couple of months ago to try something different in the dating game. Low and behold your website appeared on my screen. I wasn't skeptical of meeting new people, but didn't know what to expect. I chatted with several people and made a connection with one certain person. He was kind, generous, and understanding of my needs. One day we exchanged numbers, his voice was incredible. We talked into the wee hours of the morning. I felt I had found the man that GOD sent my way, finally. He came to Kentucky for the weekend, and we had a wonderful time together. Sharing plans, and taking pictures of our beginning. Lately things have taken a turn, but I have faith in the dating game. GOD didn't put me here to share my life with no one. So I will return for the rest of my success story. Thank you BlackSingles.com for introducing me to a new way.
WTWT and Squeakythree
Thanks to BlackSingles.com, I have found my perfect match. WTWT and Squeakythree.

I pray to God that we stay together for the rest of our lives. We are so happy being together and wish everybody the best of luck in finding the right match on Blacksingles.com.
Searchinredmon & Dewane
Hello my name is searchinredmon and my mates name is Dewane.

I have been on every site from e-harmony to match.com and nothing worked. I almost gave up until one day I received an e-mail from BlackSingles.com and I took the time and filled out the information that was asked of me. I started receiving cards and different profiles from interesting people but this one man just really caught my eye. I knew it had to be God because the things that I requested only a Christian could fulfill. To make a long story short, we kept missing each other until one day he finally caught me online. We started out talking for hours for the first time, then it turned into twice a day, and then just about every other hour. It was love at first talk and then love at first sight. We have only been dating for a little over a month, but we have put the rings on layaway and every chance we get we are with each other since we don't live in the same town as of yet.

Our plans are to get married before the summer is out and we will send some wedding pictures. So everyone that is still searching, don't give up! There is someone for everyone!
Swift37 & BARBIEBEE
My screen name Swift37 and I am now madly in love with another former BlackSingles.com member from your site.

BARBIEBEE is the most honest and lovable lady I have ever met in my life.

I realized very quickly that BARBIEBEE is keeper and one of a kind--she mine! BARBIEBEE and I are engaged and are soon to be married. Her mom is already calling me "son-in-law."

Thank you BlackSingles.com!
lee66 & aniha1945
Thank you Tasha, for BlackSingles.com. I am cancelling my membership. I have met the love of my life. We are a perfect match for each other and are both in love.

I met a gentleman on this site beginning with a couple of clicks. He clicked yes on my profile, when I was notified of this, I clicked yes to his profile.

We have since emailed, sent cards, and talked on the telephone for two and three hours each time we speak. We talk at least two or three times a day.

In conversation, we discovered that each of us possess the qualities that are necessary to form a positive relationship.

We both realize that in all relationships it must be rooted by trust, faith and love. Those three are the most important components that keep a relationship united. We know that in all that we do and all that we are. We give thanks to God for without Him none of this would have been possible.

He has since proposed marriage. We will send Wedding Pictures of this event.


Ladies and Gentlemen God has a plan for each of us, don't become disillusioned ,stay the course.

Lee66 and aniha1945
CD49 and Blksilkysmooth
Thank you BlackSingles.com for being a tool in which my father sent me the man of my dreams! I just happened to sign on and there he was, so I IM'd him and we have been non-stop since. We're both in and at stages in our lives where we're settled and know that we have more days behind us than ahead of us, but the few that we have ahead we will face them together! "Heaven Hooked Us Up" is his favorite saying when we refer to each other.

CD49 and Blksilkysmooth are no longer available to anyone other than each other. Thank you and May God Bless each of you to find the real one like we have!