Success Stories: 2006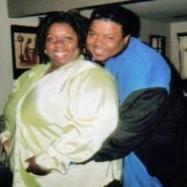 Extramile & Reachoneteach1
Hello Tasha,

We both run our own non profit organizations on the east coast in the same field. We both are single parents of 3 children each. We both believe in God- Pentecostal Denomination.

"Extramile" has family in "Reachoneteach1"'s state who know him. We're only 1 hour commute away by plane. We're looking to expand our organizations to become an East Coast Collaborative.

We both think each other is sexy and together we look good. Thanks again.
lowkee1 & santified33
Thank you BlackSingles.com (formerly Black Singles Connection) for bringing me the love of life. After much apprehension I decided to try internet dating after divorce and being single for 10 months. I posted my profile on March 7th 2006 and to my surprise there were a lot of beautiful and intelligent people that like myself were looking for love. I just had not connected with anyone.

I recieved lots of smiles, cards, etc - but fate led me to my soulmate. His profile was "santified33" and mine was "lowkee1".

I never have been one to look at someone and fall in love, for me its always been a "you've got to earn this" type of an attitude. One look at this mans profile and my very being said he is the one!!! Nervous and excited, I made first contact March 8th by sending a smile, and then a card. He did not respond until March 10th and my life has not been the same!!!!!!

He lives in VA and I am in MN. We love from afar but yet I feel so close to him. He has been very supportive of me in all aspects of my life. He is compassionate, honest, very intelligent, funny, handsome, and can stimulate my mind like no one ever has.

I am 36 years old and I have fallen in love for the first time in my life! My heart no longer aches for companionship because I have found my best friend, my soul is alive again for I have been blessed with my soulmate. My life is complete because he is now apart of my life.

I have made plans to relocate to Virginia to be near him. We each have two children and can't wait to be apart of their lives. We have so much to look forward to; thank you BlackSingles.com for sending me what I have been missing-----A good man!!!!!
lyrikvee & nezzarian
Tasha,

First off I would like to thank BlackSingles.com (formerly Black Singles Connection). If not for you all I would never have met my soulmate. I personally had given up on the dating scene but your site made a believer of me again.

The funny thing is that when I created my profile, 'lyrikvee', I thought that I was on another site. The next day when I was checking my email I noticed my mishap. I had an email from you Tasha, and thank you for the welcome, and a smile from 'nezzarian' - which I couldn't open because I wasn't a member. His picture spoke to me. I had to see what he had to say. Less than 10 minutes later I was a member. lol.

Now, I had full access. And, this man's profile was on the money. I was still skeptical because you know people can write anything they want. The main thing that stuck out was that he was a single father raising his three children. But, the whole profile caught my attention. So, I sent a smile back.

We sent smiles, cards, and emails first. Then one day when I was checking to see if he had sent something else, he IMed me. After chatting with him we found out that we were both looking for the same thing. We moved on to phone calls and he seemed to good to be true. He sent me my first smile the first week of Feb. 06. We talked and text messaged each other everyday. And, we haven't run out of things to talk about since.

Finally after all this we agreed to meet face to face. I live in Arkansas, so he drove 8 hrs. from Texas to come see me. We hit it off so good that
when it was time for him to leave, my heart hurt. Serious? Yes. He's met my three boys and they love him as well as my mother. We are now trying to find the time for all of our kids to meet. And yes, we have to endure the Brady Bunch jokes from all of our friends. lol. I'm a small town girl who never wanted to leave home. But, I am happy to say that I will be relocating to Texas this summer.

Even though I joined the site, I had given up on finding a "good" man. Through BlackSingles.com, I have met a man that loves my mind, body, and soul - and I him. We both know that there will be wedding bells in the future. I love him unconditionally and I know that he feels the same. When we get our pictures developed we will make sure to send BlackSingles.com.

So again, I would like to thank BlackSingles.com for helping me meet my soulmate, the love of my life, the man I will spend the rest of my life with. And to all BlackSingles.com members I encourage you not to give up. Love is out there and I hope you all find it soon; as have I.
atiba
I began talking online to the woman, who will soon become my wife, a long time ago and because of life problems, (family, jobs, etc), we lost contact with each other. I later found out that we both were frantic that we weren't in contact with each other. Weeks and months went by with no word from her so I figured that our association was to be no more. But, one day I recieved an advertisement about your site, BlackSingles.com (formerly Black Singles Connection). I ask myself, "Do I want to go on another dating site?", because I was disappointed at having lost a connection with a lady that I had become very fond of. I had never seen her in person but I knew what she looked like through pictures that we had sent to each other over the time that we were talking. I soon decided to take a chance and register on your site not realizing at the time that it would become the best move that I could make. Weeks went by and although I had recieved some contacts from other members I didn't pursue them because I was still a little disappointed about losing connect with someone that I had grown fond of. Then, one day I recieved a hit that looked to be familiar and when I checked it out it turned out to be her, my lost friend and pen pal. I was ecstatic with joy and it turned out that she was hoping that the contact that she had made was to me as well. We both were elated with joy when we realized that we were in contact with each other once more and so we exchanged phone numbers, e-mail addresses, and we swore to each other that we would never be apart again. THANK YOU BlackSingles.com for being there.

PS We are currently engaged to be married.
Blackperal35 & Thabossnceo
On January 22, 2006, I am came across the profile of the man of my dreams. I clicked on his profile and sent him my profile. He clicked yes, and "Chemistry was Crazy from Get Go, Neither one of us Knew Why", as Mary J. Blidge would say. The first day we talked for 7 hours by IM, then we exchanged numbers and talked on the phone for another 3 hours by phone. We have talked everyday since.

There is not a day that goes by that I don't grow to love him more. He tells me that he loves me everyday and that I am his world and everything beautiful in it. Even though, he lives in Holland, MI and I live in Rochester, NY, there is no distance in our love for one another. That will soon change, because he will be moving here in the near future, to be near me and my children. We are planning to get married in the very near future. God has truly has blessed us both to find another.

Thank you BSC for this site in where I met "MY HUSBAND". As the bible states and my husband quotes from time to time "THAT WHEN A MAN FINDETH A WIFE, HE FINDETH A GOOD THING". AND I AM HIS GOOD THING!!!
MochaQueen1 & DadDMik
Hi Tasha,

In Jan. 06 I met a wonderful man on BlackSingles.com (formerly Black Singles Connection). His name was "DadDMik" and mine "MochaQueen1". We became friends talking several times a day. Due to both of our busy schedules we remained just phone friends. I really enjoyed chatting with him and getting to know him. I often told him that I would never re-marry. I liked single life and I was having a blast getting to know different people. One day I told him if I did remarry that I would have to marry my best freind. He informed me that he was shooting for best friend status.

I began to realize that after 3 months of being just friends I had more than "friend" feelings for him. To my amazement he feels the same way, infact he told me that he knew over a month ago that I was the one for him.

He asked me to marry him on April 1, 2006, I thought it was a joke but he was serious. Of course I said Yes. We have not set a date yet, but we have informed our kids, 7 between the two of us. Our kids are thrilled. We are thankful that just when we were not looking love found us. He is truly the man God made for me.

So, to all of the BlackSingles.com members still looking - there is someone out there just for you.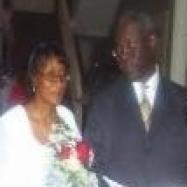 kadee & Livethelife
I am attaching a few of our wedding photos from our wedding at a local bed and breakfast in my hometown. Our wedding day was a bright and sunny winter day-- March 3rd. We had fifty of our closest family and friends to witness this occasion. Everything was more than just perfect!!

My user name was "kadee" and my honey bunches' name was "livethelife". We fell in love and never looked back. We are very happy. We just met in December. I told him just this week that we got married first and now we are dating.
PuckerUp45 & BCWYAF
Yes, I met a wonderful young lady on your site name "BCWYAF". We have been presently dating since we clicked. She is from Brooklyn, NY and I am from Queens, NY we are just around the borough from each other. Everything is in the foundation stage and the building blocks are stacking up.

Being new to the online dating scene, I never thought that this type of encounter would be this successful.

Thank you for bringing myself, "PuckerUp45" and "BCWYAF" together. May other enjoy the success we have found.
ebonysix
Hello Black People!

I have been meaning to post my success story for a long time and I'm just getting around to it but I have to say thank you so much to this site and the people that maintain it. I talked to some very nice men on this site and one of them I dated and then married on July 31, 2004.

When I first set up my profile (in November 2003), I was not looking for a husband; just a friend. I didn't think that I would actually find someone worth marrying but that's exactly what happened. They say that love finds you when you least expect it and that's so true in my case.

My husband and I have been married for almost 2 years now and things couldn't be better. Take it from me, I know what it's like to be educated and smart yet still alone. I was adament about marrying a black man so I was going to wait until I found him or he found me. As African-American women, many of us are very loyal to the African-American community and to our black brothers and we don't think about all of the other black men that we now have access to - such as black men from Africa, Jamaica, Haiti, Trinidad, the U.K., etc. It's time for us to start to date and marry black men from all over the world.

My husband is from Ghana, West Africa and while it took some patience and compromise to get over our cultural differences, I've learned that black people are black people wherever you go and ultimately we just want to love one another.

Never stop looking for that "Black Love." There's nothing else in the world like it.